During the ribbon cutting ceremony, construction workers received high praise for completing the Cleveland Downtown Hilton Hotel on time and $20 million under budget.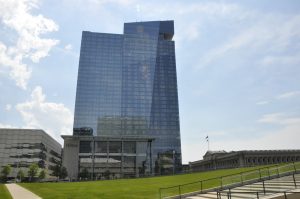 Nearly $310 million was budgeted for the 32-story hotel project, and thanks to skilled tradesmen and tradeswomen, including the area's top electrical workers, that number was never in danger of being exceeded. Through high quality work, trades members saved enough money during hotel construction to fund an additional project to build an underground walkway from a parking garage across the street to the Hilton.
Considered a key piece of the city's bid to host the Republican National Convention, the Hilton was built in just over two years.
The 600-room hotel now serves as a showcase to the rest of America why projects of all scopes and sizes should be built with Electricians Work contractors – because the electrical portion of any contract will be built with high quality craftsmanship, come in on time and on or under budget. These skilled electrical workers put in over 200,000 man hours. At its peak, the project employed 85 electrical workers.
Cleveland Mayor Frank Jackson and Cuyahoga County Executive Armond Budish both thanked the tradesmen and tradeswomen for not only their hard work, but also for the high quality of work performed on the project.
During the ribbon cutting ceremony, Jackson admitted he was initially worried that the hotel would not be built in time. However, his fears were calmed during the first project meeting when the contractors promised him the construction crews could get the structure built in time for it to open for the RNC.
The crews backed up their contractors' words through their hard work and dedication as the region's highly trained and skilled tradesmen and tradeswomen, including elite electrical workers, used their skills to provide quality work when constructing Cleveland's newest skyscraper.
To take the next step in your electrical career and work on projects such as the Downtown Hilton Hotel, fill out the form on this page.