While students and staff wrap up another successful school year, highly skilled and trained electrical workers began renovations to several schools in the Willoughby-Eastlake School District, along with a major community asset.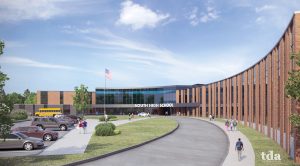 Electrical workers employed by Electricians Work contractors are working with the school district, the City of Willoughby and the Lake County YMCA to complete a $43.9 million project to construct a new two-story high school, YMCA and Senior Center. The complex will include two pre-engineered metal buildings, a gymnasium, a natatorium and interior renovations to the existing South High School to turn it into Willoughby Middle School.
This project will provide work for 10 electricians employed by an Electricians Work contractor, who will spend roughly 40,000 man-hours to complete the work in about two years.
The project is part of a massive plan to overhaul the school district's aging fleet of buildings.
Some of the area's highly skilled and highly trained electrical workers were hired to perform quality work on the building's that will educate future generations of students. The project, however, has a tight budget and requires the work be performed safely and correctly the first time to ensure the electrical portion of the project is finished on time and on or under budget.
The experienced electrical workers building this complex will be paid good wages by one of the area's top electrical contractors. They will also receive great health and retirement benefits as well.
If you are an experienced electrical worker and want to earn great wages and good benefits, then you need to fill out the form on this page. An Electricians Work representative will reach out to you with more information.