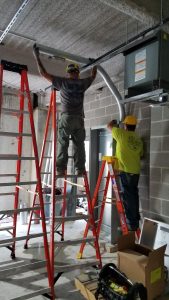 When it came time to construct a new building to house the Lake County government offices, an Electricians Work contractor successfully bid on the $1.5 million electrical project.
The electrical work began in summer of 2017 and recently wrapped up, as a group of 12 highly skilled electrical workers put in roughly 11,000 man-hours to complete the job.
Working for the contractor V.I. Chapman Electric, the highly-skilled and highly-trained journeymen installed and distributed power, lighting, fire alarm and temperature control systems.
The new building will centralize county departments, some of which are located miles from the current county administration building and will help achieve the ultimate goal of a customer-friendly, efficient government. Lake County's new administration building will connect to the current building and consolidate the county's administration office, Engineer's Office, Department of Utilities and Stormwater Management under one roof.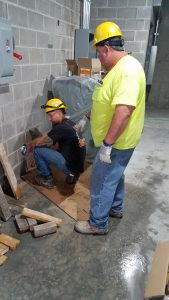 While working for their Electricians Work contractor, the skilled electrical workers on this project were paid the Prevailing Wage and received excellent health insurance and great retirement benefits.
When their portion of the project was complete, the electrical workers headed to another jobsite and started on a new project.
If you are an experienced electrician or electrical worker, you too can work on high profile jobs such as the Lake County Administrative Building. Fill out our form and we will connect you with local contractors in need of skilled electricians.
Advance your career today and begin working with an Electricians Work contractor.