Highly skilled and highly trained electrical workers employed by an Electricians Work electrical contractor helped Cedar Point build their new record-breaking roller coaster.
During Cedar Point's off-season, roughly a dozen electricians worked on the newest addition to the amusement park, a hybrid coaster named Steel Vengeance. This job took some of the region's top electrical workers about five months to complete.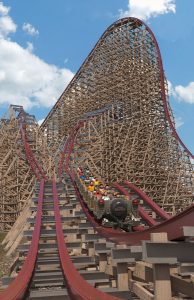 Cedar Point, known as the Roller Coaster Capital of the World, is home to 18 roller coasters and with a total of 11.4 miles has the most coaster track in the world, The amusement park is also the only theme park in the world with six roller coasters taller than 200 feet.
With a ride time of 2 minutes and 30 seconds, Steel Vengeance reaches a speed of up to 73 mph and stands over 200 feet tall.
Cedar Point relies on Electricians Work contractors for both new construction and ongoing maintenance, which allows these contractors to offer good pay and great benefits to their electrical workers. They also provide free training on the latest industry technology as well as mandatory safety training for jobs 200 feet up on a roller coaster or on the ground.
If you are an experienced electrical worker and want to work on high-profile projects such as Steel Vengeance, then fill out the form on this page. An Electricians Work representative will reach out to you to discuss how you can advance your career to work on more challenging projects, while earning more money and better benefits.