When people stay in a hotel, they expect to be safe and protected from reasonable dangers.
One way hotel chains and their ownership groups ensure the safety of their customers is by hiring top contractors to build their hotels.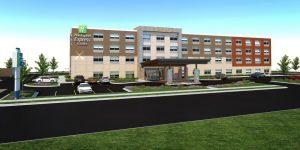 In the case of the Madison Village Holiday Inn Express and Suites, which broke ground in August 2017, an Electricians Work Contractor was hired to perform all the electrical work. The project owners wanted only the most highly trained and highly skilled electrical workers to safely and expertly ply their trade.
Now, five of the area's top electrical workers are running all electrical lines and installing all electrical systems into this 81-room facility. It is estimated they will need roughly 5,000-man hours to finish their part of the job by the time all work wraps up in August.
Electricians Work Contractors employee experienced electrical workers who understand the importance of getting the job done safely and right the first time. As the area's premier electrical contractors, they realize it is vital to pay their electrical workers good wages and provide them with excellent benefits if they expect a hard day's work in return.
Along with great pay and benefits, Electricians Work Contractors also provide industry leading training for their employees to ensure they are up-to-date on the latest industry technology, certifications and help them improve their skills.
In a time of strong demand for qualified electricians, we urge you to fill out the form to learn how you can earn a better wage and benefits, while working for one of the region's premier electrical contractors.