The region's elite electrical workers are helping construct a new luxury apartment building in downtown Cleveland.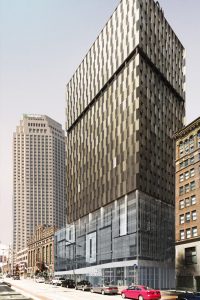 The Beacon, a 29-story apartment tower, will feature 187 new, one- and two-bedroom luxury apartments set to open in early 2019.
An Electricians Work contractor was selected to provide highly skilled and highly trained electrical workers to perform all electrical related work on the project.
Residential electricians and installer techs are expected to put in a combined 30,000 man hours on the Beacon.
These master tradesmen and tradeswomen earn great wages and receive excellent benefits, while also getting free industry leading training to ensure their safety on the jobsite and to help them work efficiently by instructing them on the latest industry technology and protocols.
If you are an experienced electrician and want to earn more money, receive better benefits and undergo free training, then you need to fill out the form on this page. An Electricians Work representative will reach out to you with more information.