Electricians working for one of the region's premier electrical contractors are building a new medical facility.
An Electricians Work contractor is employing 22 of the region's highly trained and highly skilled electricians to help construct a $33 million University Hospital medical center.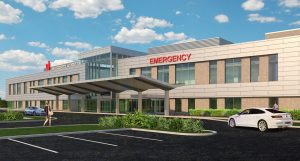 Located in North Ridgeville, the 55,000-square-foot project will include an outpatient facility to provide primary care, radiology, OB-GYN, pediatric and an emergency room services.
As one of the top health care systems in Ohio, UH trusts the Electricians Work Contractors to use only the most highly trained and highly skilled electricians and installer technicians on this important project, which will change the scope of healthcare for thousands in the area.
This state-of-the-art outpatient health facility is being constructed, in part, by electrical workers who continually update their certifications and skillset to ensure they do the job right the first time, helping the project finish on time and on budget.
Working as an electrical worker for an Electricians Work Contractor is not a job, but a career, as electrical workers receive great pay and excellent health and retirement benefits. The Electricians Work Contractors also provide their electrical workers with free training to upgrade their skills and to help them obtain certifications to keep them eligible to work on projects requiring top-level safety training such as Infection Control Risk Assessment.
If you are an experienced commercial electrician and want to work on projects such as this one, fill out the form on this page and an Electricians Work representative will contact you with more information.