No other college or university in the world can match the sheer size and scope of the Case Western Reserve University think[box].
This center for innovation and entrepreneurship provides a space for anyone – students, faculty, alumni and members of the community – to tinker and creatively invent.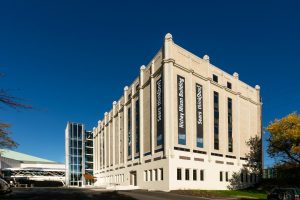 It is the third most popular facility on campus, producing attendance figures on par with the athletics center and the library.
Located in a seven-story, 50,000 square foot facility, with four floors occupied and more under renovation, this project is the largest open-access innovation center at any university in the world.
Think[box] is home to a handful of 3-D printers, electronic instrumentation, wood-working, metal-working and other construction tools, a welder, laser cutters, a printed circuit board router and other equipment.
Case Western Reserve did not want just any electricians to help build their center for innovation – they wanted the best, which is why they hired an Electricians Work contractor.
With complex wiring and the need for a steady supply of accurate power distributed to some a wide of equipment, the university wanted highly skilled and highly trained electricians on the job to get the work done right.
A mistake in power distribution or wiring could not only lead to the destruction of a sensitive or expensive piece of equipment, but it could also lead to someone getting hurt.
That's why Case choose an Electricians Work contractor – to use experienced and certified electrical workers to perform high quality work and get the job done.
These highly skilled and highly trained electrical workers spent about 9,000 hours onsite completing their portion of the think[box] contract.
If you are an experienced electrical worker who would like to work on high profile projects, while earning a higher wage and better benefits, then you need to fill out the form on this page. An Electricians Work representative will reach to you and provide you with more information.